Marriage for Gays and Lesbians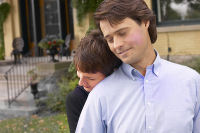 The Connecticut Supreme Court ruled October 10, 2008 that gay and lesbian couples have the right to get married.
The ruling makes Connecticut the third state, after Massachusetts and California, to decide that its constitution mandates treating citizens equally when applying for marriage licenses, regardless of their sexual orientation.
In 2005, Connecticut was the second state in the United States to allow same-sex civil unions. Now, with same-sex marriages being allowed, partners can declare their love and commitment to each other and enter into a legal marriage.
My name is Rabbi Steve Mason and I am a Justice of the Peace. I enjoy providing counseling and perform same sex weddings and civil ceremonies in the state of Connecticut.
In Connecticut:
These ceremonies are for same-sex couples only.
Neither person in a same sex marriage can be be married nor in a civil union elsewhere.
Neither person can be related to the other person they are entering a marriage with.
Both people must be at least 18 years old. (With few special exceptions)
Please feel free to call me at 860-659-2698 or through the "Contact Info" page, and let's discuss your exciting plans.

Copyright © by Counseling Affiliates, Inc. All rights reserved.